TECcare Daily Concentrate
TECcare Daily Concentrate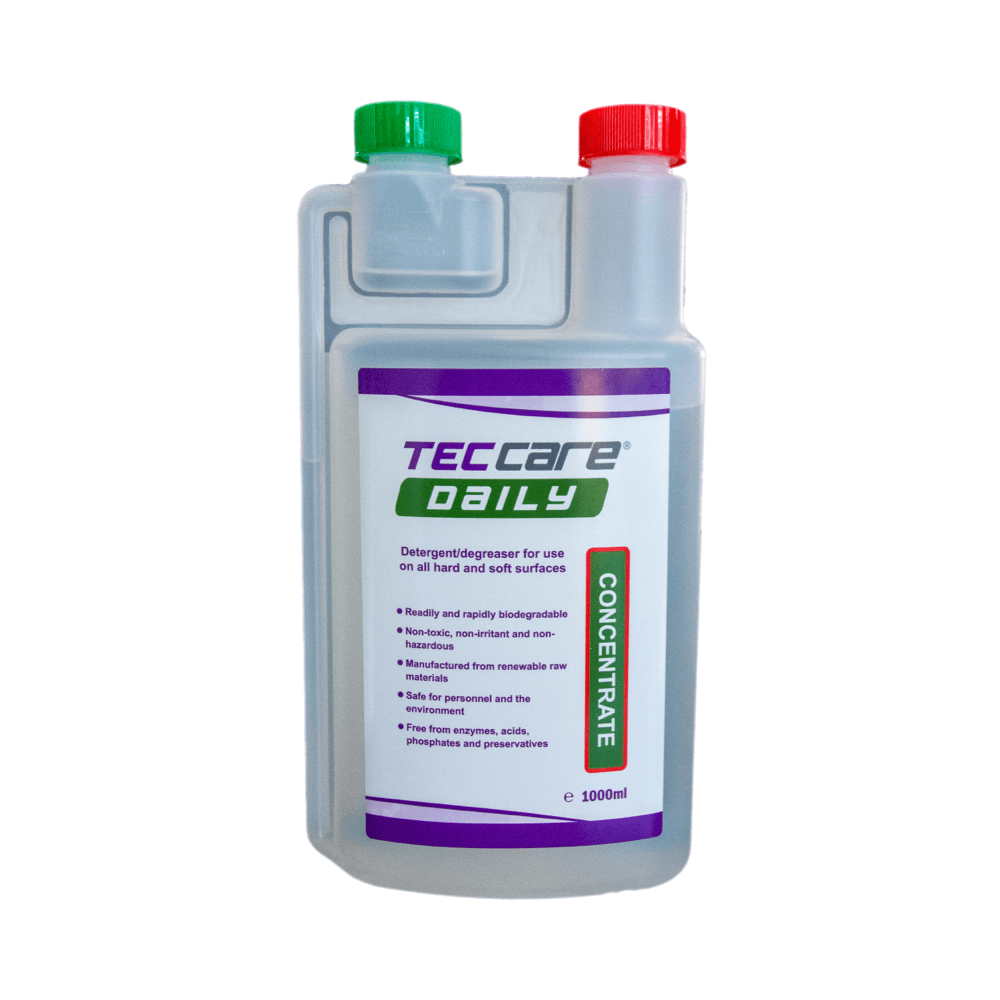 Non-toxic and non‐hazardous
Free from phosphates, parabens and preservatives
Zero VOC's and cleans at a neutral pH
TECcare Daily is an environmentally friendly cleaning solution

, containing:
TECcare Daily is a total rapid biodegradable cleaner with NO Bioaccumulation to the environment or on surfaces, which means ZERO environmental impact! Developed to breakdown oil spills, fat, oil and grease (FOG), lipids, dried bodily fluids and organic matter by using the same adjuvent that is in all TECcare products. Daily is smear and streak free, non-hazardous, completely non-toxic, and free from phosphates, parabens and preservatives. TECcare Daily originates from renewable sustainable organic sources. Global SDS show zero risk to skin, inhalation, eyes and requires NO PPE.
TECcare Daily is a daily cleaning fluid that eats through organic matter and is used as part of your daily cleaning protocol. In the same way as Ultra & Control kills bacteria ‐ Daily breaks down organic matter for easier cleaning & physical removal of soiled surfaces. Daily does not have any kill claims and is used as a cleaning agent. It can be used to replace chlorine and bleach as a safer method of cleaning for both the person using it and the environment. We recommend TECcare Daily to be used as a part of our E-Shield Disinfection Protocol ‐ Ultra (monthly), Control (weekly) and Daily (daily). TECcare Daily physically cleans substrates ensuring the perfect base for Control and Ultra using NO other chemicals in the newly created environment.
TECcare Daily has been designed as a cleaning agent to replace toxic and harmful chemicals that are often used for everyday cleaning and are detrimental to personnel and the environment. It is safe and easy to use and no specialised training is required. This product is the cost effective environmentally friendly alternative to harsh chemicals for every day cleaning.
TECcare DAILY is a cleaner and detergent and is not supplied or sold with any kill claims (It is not registered as a biocide as it is just a cleaning detergent).
STILL HAVE QUESTIONS?
We're here to help. Contact us now to get answers or advice you need.
Call us on 01-8256057 or 085 2856880 Monday to Friday 9am to 5pm.
Or you can email us at info@infectionprevention.ie or use the chat to send us your message.
info@infectionprevention.ie
Glebe Lane, Ratoath, Co.Meath
Email
info@infectionprevention.ie
Glebe Lane, Ratoath, Co.Meath
© 2020 Infection Prevention Ireland, All Rights Reserved.