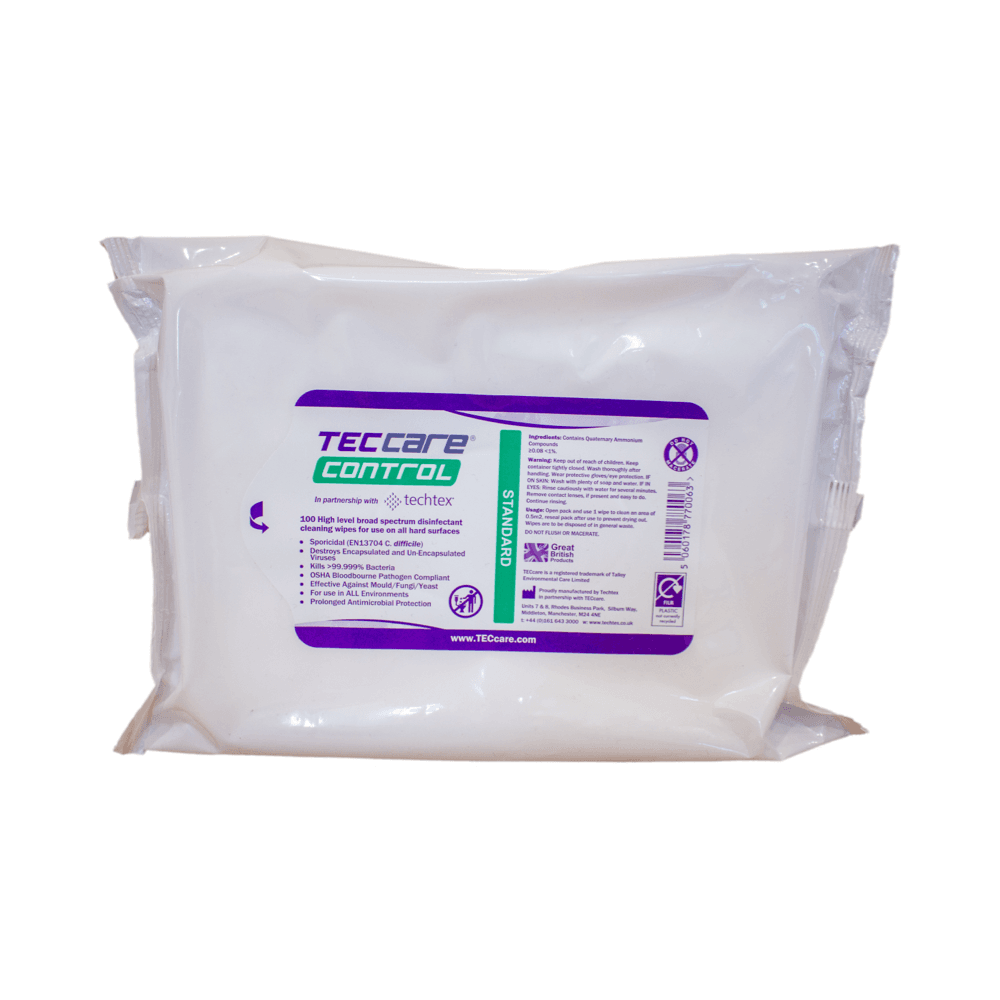 Offers High level of anti-microbial activity
This product carries on working and is a persistent solution with a prolonged anto-microbial effect and excellent material compatibility.
Chlorine free, Alcohol free and Non-corrosive
Safe, Non-toxic, Non-irritant

TECcare Control offers broad spectrum disinfection

Very low chemical concentration yet highly effective

Single step cleaning and disinfection

Can be used on all surfaces and is residue-free
TECcare Control is an environmentally friendly disinfectant chemical

, containing:
TECcare Control is a high level, broad spectrum disinfectant cleaner which is effective against all microbial classes up to and including bacterial spores (see the E-Shield Overview table for a summary of its antimicrobial efficacy). Control has been developed as a combined high-level disinfectant / cleaner for all hard and soft surfaces, environments, equipment and air. Control is a powerful lytic agent which is based on the quaternary ammonium compounds benzalkonium chloride and didecyldimethyl ammonium chloride. Quaternary ammonium compounds have multiple affects and points of action within the microbe include:
Inactivation of energy-producing enzymes
Denaturation of essential microbial proteins
Physical disruption of membrane lipids
Bacterial cell walls
Proteins and lipids are essential components of bacteria, viruses, fungi and bacterial spores. Significant damage to these key microbial components is often fatal for the organism. Control causes rapid and significant changes at multiple sites within the microbe. The magnitude of this affect is so great that it is typically lethal to the microbe within minutes of contact.
Bio-film – Control works by breaking down the EPS (glue / matrix which acts as the protective diffusion barrier around bacteria). Typically a polymeric conglomeration of extracellular polysaccharides, proteins, lipids and DNA. Therefore we enable penetration of the bio-film on the bacterium killing aerobic and anaerobic bacteria within the bio-film colonies.
STILL HAVE QUESTIONS?
We're here to help. Contact us now to get answers or advice you need.
Call us on 01-8256057 or 085 2856880 Monday to Friday 9am to 5pm.
Or you can email us at info@infectionprevention.ie or use the chat to send us your message.
info@infectionprevention.ie
Glebe Lane, Ratoath, Co.Meath
Email
info@infectionprevention.ie
Glebe Lane, Ratoath, Co.Meath
© 2020 Infection Prevention Ireland, All Rights Reserved.