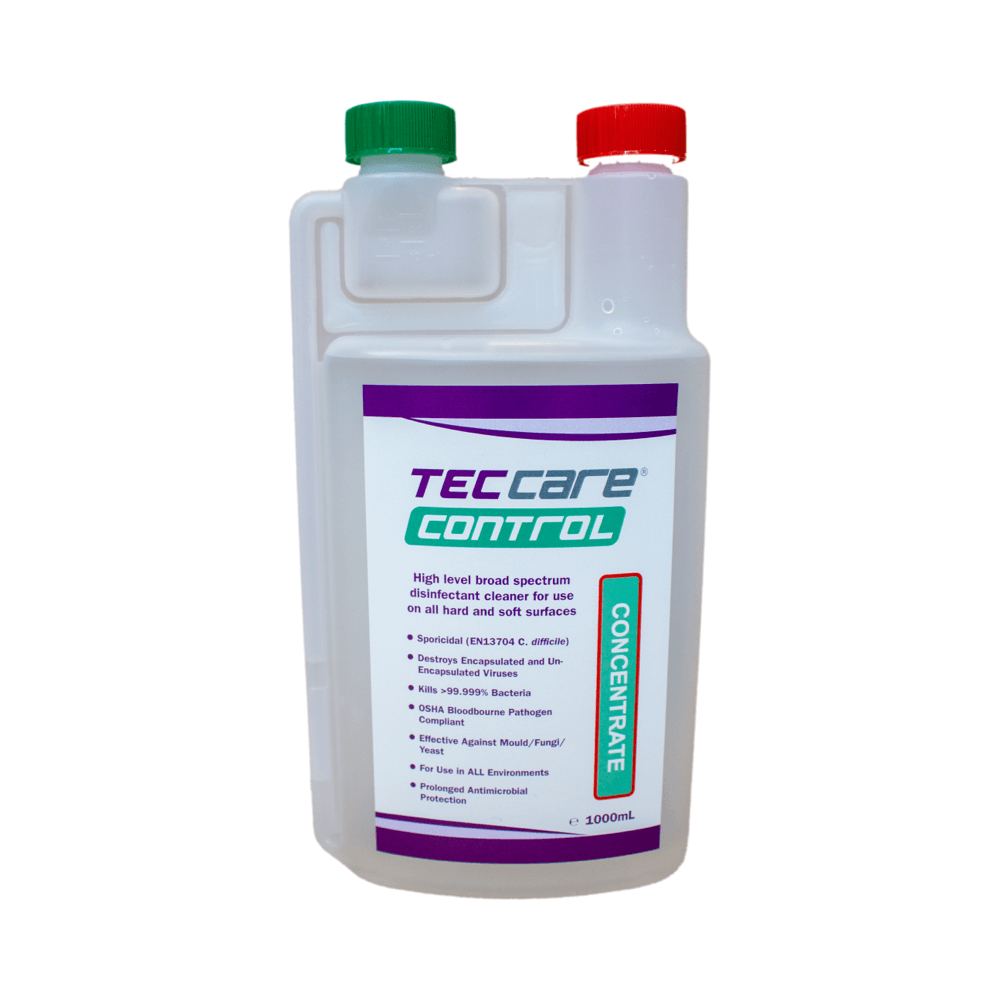 How to Kill Viruses using ECO Friendly Fluids
The first thing you should know and understand is that our system is a combination of the use of the Victory Innovations electrostatic sprayers and TECcare Antimicrobial Technologies eco-friendly chemical solutions.
It is a touchless disinfection application system, which means you spray and walk away, there's no need to rub down or scrub in with a cloth once any spillage or organic matter has been removed. Also, you will be happy to know the following:
Hydroxyl free radical, water-based chemicals, which are food safe, animal husbandry (premise), virucidal performance, safe and GREEN.
TECcare Control is fully compliant with all Irish and EU regulations including REACH & COSHH, and is registered on the Biocidal Product Register with the Department of Agriculture, Food and the Marine with associated PCS numbers. (This registration is mandatory for chemicals to be made available on the market and used in Ireland. PCS No: 97675 / 97676). TECcare Control is also listed by the EPA (Environmental Protection Agency) on their List N (No: 85343-1) – "EPA expects all products on List N to kill the coronavirus SARS-CoV-2 (Covid-19) when used according to the label directions".

All chemical data sheets are available on request.
Revolutionary Electrostatic Technology – What is it?
Electrostatics is the process of adding an electrical charge to the liquid droplets when they are sprayed. When you spray a solution that is properly charged with electrostatics, the solution will envelop the targeted object to provide an even 360 coating, adhering to hidden and shadowed areas, with no runs or drips on vertical surfaces, delivering rapid and effective disinfection to all surfaces and areas.
The only electrostatic cleaning and disinfection system on the market today
A new protocol that is revolutionary, persistent, effective and positively disruptive! Safer for everyone when cleaning and disinfecting all environments.
E-Shield – Science Empowering Nature
Features & Benefits of the E-Shield & E-Pack in Conjunction with Electrostatic Sprayers
Electrostatic Sprayers deliver 3-D wrapping which is the liquid adhesion of chemicals using positively charged chemicals which automatically adheres to most surfaces.
The Victory electrostatic sprayer delivers correct dwell times using the Victory 3 setting nozzle resulting in a uniformed and even coating.
It is environmentally friendly by applying 65% less water based chemicals. An unbelievably faster and safer application of water based chemical to any substrate.
Cleaning
– cleans organic matter
disinfects
– kills C Diff in under 2 minutes
Hand sanitiser
– Kills C Diff in 15 seconds
Our sprayers and chemical have been designed to work exclusively together to deliver outstanding kill results on over
100 pathogens.
Changing the way you Clean and Disinfect
your Environment
The cleaning process used in the modern day is flawed in many ways and, with your help and our support; we are going to change this.
The current cleaning and disinfecting process in most environments involves walking into a room with a trigger sprayer, cloths and spray across all surface areas followed by wiping down.
This process can be ineffective, harmful to the user (strong chemicals) and the environment and also incredibly time consuming. There are many reasons why we make this statement – so please contact us to find out why!
The Problems with Current Basic Cleaning Processes
Cleaning is about removing the bio-burden on the surface and preventing outbreaks.
Lack of knowledge and understanding of chemicals / products that are being used as well as poor application methods make current processes flawed.
Cleaners have been educated / taught to spray and wipe almost immediately therefore not understanding if the surface is even dirty or whether the product they are spraying needs to be left on the surface for a required period of time to comply with EN testing.
For example, a product that needs to be on the surface for up to 5 minutes (tested to EN standards) to kill bacteria, is sprayed on and virtually wiped off instantly, meaning that it is an ineffective way of cleaning and disinfecting – they are in most cases also harmful to the user.
Infection Prevention Ireland's Cleaning and Disinfection System
Our revolutionary new protocol, E-Shield, is a complete cleaning and disinfection system, whereby an environment (whole room) can be maintained with ease, effectively cleaning organic matter (the source of outbreaks), killing pathogens and bacteria, and is not harmful to the user or the environment.
The E-Shield system is a combination of our revolutionary electrostatic sprayers, accessories and eco-solutions that 'Empowers Mother Nature', the greatest defence system on the planet!
E-Shield range of eco-friendly water-based, safe in use cleaning, disinfecting and sanitising solutions have been specifically created to help protect the health and wellbeing of people and animals in any environment and in any industry.
All E-Shield solutions are bactericidal, virucidal and fungicidal and exhibit the following key qualities in use: non-corrosive, non-irritant, non-toxic, food safe, safe in use.
Below is a summary of our main solutions, DAILY and CONTROL, which have been specifically designed and tested to be sprayed through the Victory electrostatic sprayers.
DAILY
It uses the same adjuvent that is in our other products and should be used as the cleaning alternative.
Recommended for use as an everyday part of your cleaning routine and for washing clothes.
DAILY will set up and maintain the perfect surface for CONTROL to be applied weekly and will not interfere / conflict with each but support the cleaning and disinfection mode of action.
DAILY has no kill claims and requires NO PPE and is safe for the user.
A revolutionary high-level cleaner for all business and industries with no environmental impact.
CONTROL
CONTROL has been formulated to clean and disinfect using only 0.08% of chemical in a 5-litre bottle, and offers high levels of antimicrobial activity as it carries on working as a persistent solution.
In concentrate format it is green in colour, fragrance free, chlorine free, alcohol free and provides excellent levels of user acceptance with prolonged antimicrobial effect, with excellent material compatibility and empowering Mother Nature.
CONTROL carries on working on the air in your environment as it passes over removing harmful VOC's.
When we use electrostatic spraying paired with our Eco Friendly Disinfectant we are creating an E-Shield Environment. Please see the images below showing a standard cleaning protocol compared to the E-Shield Environment.
In the green image E-Shield area of cleaning you can see that we cover the whole room creating an Eco environment, which is achieved by using our electrostatic sprayers and our persistent fluids!
We create a healthy clean environment by using our electrostatic sprayers and our persistent eco fluids by eliminating the bio-burden (organic matter) on the surface.
Creating this hostile environment for pathogens (safe for humans and animals) it reduces the cleaning time and protects us against outbreaks because of the environment that is created. By not using harmful chemicals and cross contaminating with cloths and immediate wiping we also cut down on the transmission potential of wiping from one area to another.
We endorse wiping away stains and heavy soiling where you see it and because DAILY and CONTROL breaks down the bio-burden by creating a 'Teflon' (non stick) type surface where the pathogens cannot stick to replicate or grow, it makes cleaning far easier and safer and as our fluids start to work with 10 seconds you can wipe before the fluids dry on the surface still knowing that you have a protective barrier protecting your environment!
E-SHIELD – creates a hostile, tensive surface environment for all pathogens. The bacteria cannot stick to the surface and therefore does not allow it to grow and replicate on the substrate which stresses it out and it then dies! Applied by our victory sprayers it adds a positive microscopic cationic electrical charge into the already charged fluid making it incredibly potent. The new untenable surface results in death for all bacteria and uses 65% less fluid.
STILL HAVE QUESTIONS?
We're here to help. Contact us now to get answers or advice you need.
Call us on 01-8256057 or 085 2856880 Monday to Friday 9am to 5pm.
Or you can email us at info@infectionprevention.ie or use the chat to send us your message.
info@infectionprevention.ie
Glebe Lane, Ratoath, Co.Meath
Email
info@infectionprevention.ie
Glebe Lane, Ratoath, Co.Meath
© 2020 Infection Prevention Ireland, All Rights Reserved.